Journal: The Eaton's Centre Roof
Eaton Centre Roof (August 2000): Usually I prefer to get to the tops of buildings from the inside, but when a stranger named Dan invited me to join him in climbing atop the galleria roof of Toronto's Eaton Centre, I couldn't really say no. Crossing the large glass roof, we'd be immensely visible to anyone in the mall below us, and nothing but a thin layer of glass would be keeping us from falling several hundred feet. Yet scaling the famous rooftop and staring down on 12 levels of offices and retail stores sounded like an intensely memorable experience. Besides, Dan assured me that he'd done it once before and it had gone off smoothly.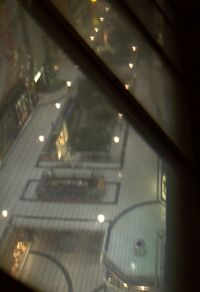 Arriving late one night after the mall had closed, Dan and I made our way up to the top of the building without much trouble. A steel casing for wiring was in place to help most of the way to the top of the arching glass roof, which was good, because we didn't have any climbing gear aside from some rope we'd found on our way up. Dan went first, scrambling up the ladder quickly and waiting for me at the crest of the roof. I didn't really like the idea of forcing the roof to support both of us at once, but I didn't want to yell at Dan to get out of the way, so up I went. The two of us peered down at the empty but well-lit mall in all its majesty, noting happily that the two security guards right below us didn't seem to be interested in looking up. We then hastily slid down the opposite side of the roof and dismounted, and I let out a huge sigh of relief. This escapade had felt incredibly dangerous to me, especially since I hardly knew Dan, and I hadn't been quite sure if he was brave or just insane.
I didn't find out that Dan was actually insane until a little while later, but that story is told in Infiltration 17.
Continue Back in Journal | Switch to Journal Index