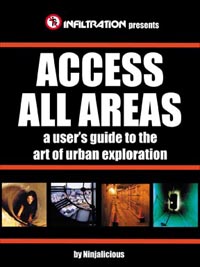 "A practical guide to indulging one's curiosity while gently subverting the structures of authority." — Toronto Star
"An essential guide to a growing global pastime...an engrossing read" — Dose
"And it's funny, too." — eye weekly
This how-to guide will explain the secrets of urban exploration, like sneaking, social engineering and equipping — all while guiding you through abandoned buildings, construction sites, drains, tunnels, and beyond. The book contains more than 240 pages of illustrated, expert advice from Ninjalicious, the editor of Infiltration zine.

To order your copy, send $20 cash in the USA, $23US/Cdn to Canada, or $25US cash overseas (includes shipping, no cheques please) to:
Infiltration, PO Box 511, Old Chelsea Station, New York, NY 10113 USA
or order online with PayPal or a credit card.

Kindly wait six weeks to inquire about your order.