Journal: BC Ferries
BC Ferries Spirit of Esquimalt (2 October 1999): While I was visiting my former homeland of British Columbia, I got a bit nostalgic for one of my old favourite places to explore: the big ferries that shuttle cars and people back and forth between Vancouver and Victoria. My family had always been fond of taking trips to Victoria, and during the four-hour round trip to the island I'd quickly learned that exploring the ship was both cheaper and more thrilling than pumping steady streams of quarters into Tutankamen and Bagman.
I was really feeling more nostalgic about exploring the ferries than about visiting Victoria, so my plan was to pay the $8.50 fare to travel over to the island and then hide somewhere when the time came to disembark, so I wouldn't have to pay a further $8.50 to come back. I thought being a stowaway during the trip back would be pretty cool.
I purchased my one-way ticket at the Tsawwassen ferry terminal more than two hours ahead of the next scheduled departure, so to kill time I wandered down to the ferry docks to take some pictures. As I was doing so, I couldn't help but notice that the car ramp leading to the ferry in dock two, the Spirit of Esquimalt, was down. I was pretty sure I'd soon be shoo'ed away from the area, but I figured it couldn't do any harm to wander up the car ramp and take a couple of pictures of the ferry's main loading bay before I was evicted.
Once I got away with that I figured it couldn't do any harm if I just casually walked inside.
Once I got away with that I figured it couldn't do any harm if I just strolled along the length of the ferry and took some pictures from the ship's prow.
And once I got away with that I began to realize that I had the whole ship to myself and could do whatever I wanted.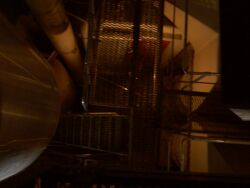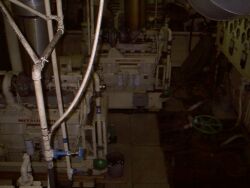 The view down from five flights above sea level,
and some engine rooms two flights below sea level.

Continue Back in Journal | Switch to Journal Index