Journal: University of Toronto Steam Tunnels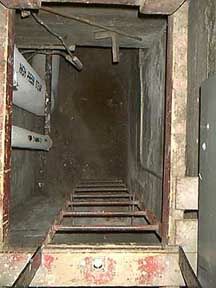 University of Toronto steam tunnels (early July 1999): My pal James kindly offered to show me a small stretch of the tunnels under the UofT, so we met up in the early evening and took the plunge. The entrance, located near the northwestern end of the campus, consists of a wooden trapdoor in the floor leading down to a ladder. Very odd. The tunnels and subterranean rooms beyond were not extensive by any means, but they did have a wonderfully ancient and unused quality. We spent about 30 minutes poking around before coming to the spot where a firmly locked steel grate ends any hope of proceeding further south.
After returning to the surface, James and I grabbed a drink at a nearby pub. A friend of James said to him, "Hey James, I saw you cross the lot earlier, but I never saw you come back. Do you have some sort of secret network of tunnels or something?" James, who isn't entirely open about his hobby, just said "kind of" and changed the subject.
Continue Back in Journal | Switch to Journal Index