Journal: Pratt Institute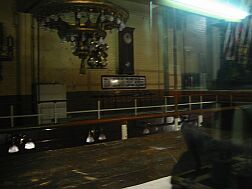 Apparently the 13 cats trapped inside the Pratt engine room are not starving.

Pratt Institute (May 2003): Exploring in New York City right now is a bad, bad idea. If you don't believe me, just ask one of the nice gentlemen with the assault rifles in the subway stations. I'm sure they will back me up on this.
While New York is far too old, large and complex a city to come anywhere near to patching up all its vulnerabilities (which are glaringly obvious to people with the exploratory mindset), there are indeed cops and marines and security guards everywhere. Razor wire sales seem to have shot through the roof over the last three years, and haphazardly deployed strings of razor wire surround everything from construction sites to community gardens. When Julia (of Dark Passage), Liz and I dared to spend a few moments looking at the entrance to an old abandoned train tunnel in East New York, the police arrived on the scene just a minute or two after we left.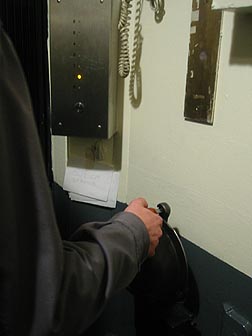 The service elevator had no buttons — one lever controlled both the direction and the speed.

But the next bit of exploring we did in Brooklyn wasn't our fault at all. We were just out for a casual evening stroll in the rain with our friend Mark and his friend Damon when Damon offered to give us a tour of the outdoor art at the nearby Pratt Institute. Outdoor art was fine — no one would shoot us for looking at outdoor art, as long as we didn't look too closely.
As we ventured toward the school buildings, a nearby guy and girl noticed that Damon was pointing out various bits of the campus to us. The guy asked if Damon was giving a tour, and when Damon said he was, the guy stepped in and hijacked the tour. After showing us an aurally bizarre amphitheatre outside, the guy led us inside and showed us a deep, ancient engine room occupied by 13 cats. It wasn't clear exactly how the cats power the building but we were impressed nonetheless. The couple told us that we should look around the building some more and then left, while Liz chased around a cat that had somehow escaped from the engine room.

Damon showed us a quiet room he told us he had once visited in order to sit alone and read.

Now that we were inside the warm, dry building, our thoughts quickly turned from art to architecture. Damon began to lead the way up some stairs he thought would take us to the roof, but after a few flights he mentioned that there was an elevator. The ancient elevator we found was controlled by a single lever that controlled both the direction and speed of travel; Damon grabbed the control and after a jerky start we soared up to the top of the shaft, having to jump down just a little in order to hop out on the seventh floor.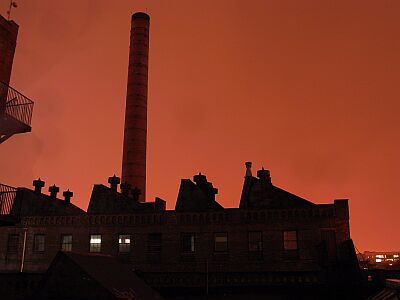 Liz's picture of the rainy roof of the Pratt building.


Damon now led us around through various empty hallways, classrooms and stairways in search of the roof, showing us a few of his favourite spots as we went. The building was obviously very old, and filled with all sorts of lovely architectural details like sliding metal fire doors and strange light fixtures. Eventually we emerged into the rainy evening, climbing a wet fire escape near the top of the building up to the roof. An iron ladder nearby beconed me to climb it up to a higher roof, but the others pointed out that that climbing the ladder in the rain would be dangerous, and that there was a security camera right beside the ladder. This security camera seemed to be peering down at our section of the roof, so, after a few more pictures, we ventured back down to safer territory.

Continue Back in Journal | Switch to Journal Index