Journal: O'Keefe Brewery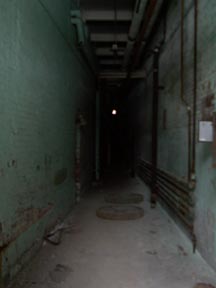 O'Keefe Brewery (November 2002): It was a cold, snowy Montreal morning when Liz and I decided to follow the advice of the people at Urban Exploration Montreal and seek out the wonders of the abandoned O'Keefe Brewery. As we approached the building, which is pretty much right in the heart of downtown Montreal, with busy traffic on all sides, I noticed the ground-floor windows had been boarded up fairly thoroughly, and it didn't seem like there would be any way to climb to higher levels without being seen by hundreds of passing cars. There was, however, a small courtyard, which proved to be the building's weak point. Inside the courtyard, we saw that only a pathetic, token effort had been made to block off a half-dozen or so easy entrances into the building with a bit of temporary orange fencing.
Brushing this aside, we wandered in to a snow-filled landing, and headed down to the pitch blackness of the basement. At first glance we estimated that the basement was very large, though it was difficult for us to tell for certain, since we couldn't see any of the far walls. It was also extremely empty. The upper floors of the building offered a lot more light and a lot more interesting relics, including old signs, work orders, vats and machinery. Considering how wide open the building is, it's amazing what good shape it's in — there's a fair bit of graffiti (especially on the roof), but it was refreshing to see that most of the machines and windows have been left alone. As always, Liz and I took nothing but pictures, but boy oh boy did we take a lot of pictures.
Continue Back in Journal | Switch to Journal Index