Journal: Martyrs' Shrine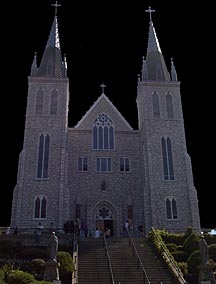 Martyrs' Shrine (August 2002): As much fun as Liz and I had in most of the churches we poked out heads into, there were a few real duds that I didn't even waste time mentioning in the church issue of the zine.
Probably the most depressing failure of the issue was the Martyrs' Shrine in Midland. As I'd attended various World Youth Day events around town, everyone had told me that the shrine was one of the best Catholic hang-outs in Canada, and eventually I foolishly convinced Liz to that we should drive up there and check it out.
The martyrs sucked hard. First off, we were charged a $6 "grounds fee" which they attempted to pass off as a "donation". While the church looked good from the outside, inside, it seemed much smaller, and looked like it had been thrown together out of some old, broken cottages. Everything was tightly locked up, and they wanted $5 just to light a candle.

Left: The candles upstairs were $5 per ignition, so we were looking at well over $1 million worth of candlepower. Right: Gimme a C! Gimme an H! Gimme another C! Gimme another H! What's that spell? Nothing, really.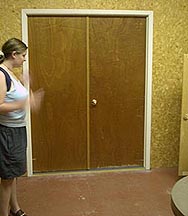 Liz worries while we wait for the people outside the locked storage room to leave.

Liz and I wandered down to the basement to try our luck, but had little. At one point we wandered into a storeroom, which we locked behind us just to be safe while we searched the room and tried to push open a square panel set into the far wall that looked like it might be a way out. As we stood in there, we heard voices outside the door, and then watched as someone repeatedly tried the door, and we heard people speaking in concerned voices on the other side of the door. We prayed that they didn't have keys. (Though we didn't go so far as to light the many boxes of candles that were in the room with us.)
When that threat dispersed, I pushed against the panel again, and this time knocked it down from its perch, causing it to make a tremendous clapping noise as it hit the cement floor. On the other side of the portal was a wall. Sigh. After considerable effort, I hoisted the panel back into place and Liz and I headed out.

Continue Back in Journal | Switch to Journal Index