Journal: La Grande Hermine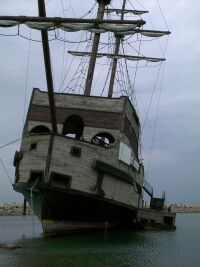 La Grande Hermine (19 December 1999): Liz, Scumbone and I journeyed to St. Catharines, Ontario, and managed a very successful and memorable dinghy expedition to board a half-sunken ship called La Grande Hermine.
We headed to the Hermine's cove equipped with a pre-inflated Explorer 100 raft with a carrying capacity of 120 pounds. None of us weighed a mere 120 pounds, of course, but the raft had only cost $18 and I figured it would stay more-or-less afloat long enough to get us aboard. My companions were less sure of this, so I was given the honour of making the first journey. Armed with a flashlight, a camera, a rope and a couple of small boards to be used in place of oars, I lowered myself into the raft and headed out to sea....
All the horror and ecstacy that followed are recounted in Infiltration 15: Infiltration at Sea.
Continue Back in Journal | Switch to Journal Index