Journal: Brock Steam Tunnels
Brock University Steam Tunnels (20 February 1999): I visited Brock University (St. Catharines, Ontario) with those documentary people. We arrived on campus around noon, and were ushered into the tunnel system by a friendly physical plant guy, who pretty much just let us inside and then took off for the day.
The Brock tunnels are the safest, coolest (temperature-wise) tunnels I've ever visited. Physical plant workers are in the tunnels all the time, and ride quickly through the tunnels on bicycles. In spite of this very tame quality, the Brock tunnels were quite interesting. They are very closely integrated with the school itself; whereas most steam tunnels just hook up with mechanical rooms underneath various colleges, these tunnels opened right out into the main hallways of the campus (locked on the student side, of course).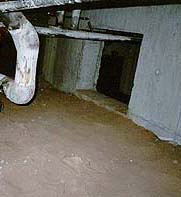 I also got a kick out of two neat areas we discovered. At the end of a small narrow shaft, we found a three-foot tall green door. Naturally, we had to find out what went on behind the green door, so we pulled it back and hopped in. It was a tiny, unlit crawlspace with concrete walls and sand floors (?). Several other rooms with sand floors were connected. After being in here for just a few minutes, the dust got hard to bear. Continuing our travels, before long we found another gigantic crawlspace filled with odd machinery, only here the floor was coated with large rocks. Nice.
Continue Back in Journal | Switch to Journal Index