Books! Zines! Stylish UE Fashion!
This page is a good place to buy the book Access All Areas, complete sets of the zine, or one of the newest batch of Infiltration t-shirts.
Shipping is included in all prices. We apologize for having to increase our prices to keep up with constantly escalating US Mail shipping costs.
Please allow six weeks to pass before bugging us about your order...we will do our best to ship it promptly!
---
Mega-Back-Issue-and-Book Bundle!!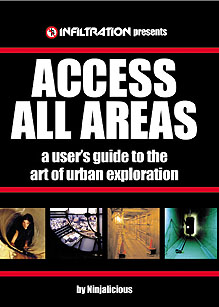 +

Get all 25 issues of Infiltration Zine and the Access All Areas paperback together at a special price and save money!
---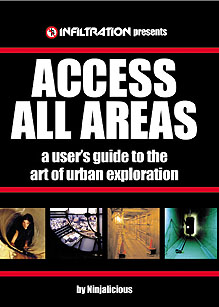 Access All Areas
Access All Areas: A User's Guide to the Art of Urban Exploration is available for direct order from us, the publishers. This book is $20 USD postpaid in the USA. Due to the frighteningly high cost of shipping, we are forced to charge $30 US in Canada, and $32 US for overseas orders. Shipping is included.

Currently in its fifth edtion!